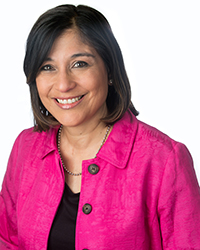 Diana V. Sáez
Repertoire Specific R&R Chair
Diana V. Sáez is the Director of Choral Activities at Towson University in Baltimore where she directs the TU Chorale, Women's Choir and Choral Society. Before coming to Towson, Sáez was serving as Visiting Choir Director at Knox College in Galesburg, Illinois where she conducted the College Choir and Madrigal Choir. Previously she served as Visiting Choir Conductor at McDaniel College in Westminster, MD. Sáez also directed the Catholic University Women's Choir for six years and served as artistic director of the World Bank-IMF Chorus in Washington DC for sixteen years.
Frequently invited as guest conductor, adjudicator and lecturer in the United States and abroad, she has presented interest sessions at national and regional ACDA conventions as well as in Puerto Rico and Argentina. She was guest conductor at the Festival Distrital de Coros en Bogotá, Colombia and has directed regional honor choruses in Virginia, Maryland, New York and Pennsylvania.
As a leading specialist in the field of Latin American music, Sáez served as artistic director of Cantigas, a chamber choir that she founded with the mission to increase awareness and appreciation of Latin America and Spanish choral music. For 25 years Cantigas was a principal performer of Latin American music, with appearances at the ACDA Eastern Division Convention, Kennedy Center, Strathmore Center, museums and embassies, as well as international tours in Colombia, Argentina, Venezuela, Puerto Rico and Cuba. In 2014, the choir was awarded the Choral Excellence Award for Most Creative Programming by the Choralis Foundation in Washington, DC.
Dr. Sáez began her musical education at the Escuela Libre de Música in San Juan, PR. She earned a Master of Choral Conducting from Temple University, and a Doctorate in Musical Arts at the University of Maryland in College Park.
Her choral music and arrangements are published by Boosey and Hawkes and by the Roger Dean Publishing Company, a division of The Lorenz Corporation.